Being a Mall-girl, I really didn't know what smaller level markets held, or had had much experience of buying export surplus goodies.
So when I joined hostel at North Campus, I tagged along with my new found girlfriends to shop till I dropped :)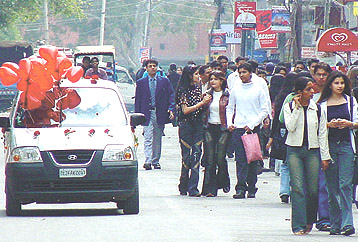 Central road through KN
Here's what I found:
Shop no 1: Funky Shorts.
Location: Mc Donalds lane. Big Billboard.
Pricing : You got everything between 50 to 150 bucks. THATS IT! 150 bucks is the ceiling.
Stuff found:
Funky shorts(Denim,cotton,lycra etc)-99 bucks each.
If you go underground into the shop, you'll find loads of stuff under 150/- Tops,Jackets,Frocks,Accessories etc etc.
My take:
I bought a lot of long sweaters from there in the winter, all at 150 bucks. The quality was pretty good considering how cheap it is! Colours were good, there is a fitting room inside the shop, variety is great. I always check this shop out.
Shop no 2: Thela near Book House.
These are the types of earrings he sells.
Location: Mc Donalds lane, Next to Fastrack/Converse showroom.
Pricing : 5/-
Stuff found:
Earrings Galore!

You'll find them made of glass,plastic,beads etc etc. Brilliantly colored stuff that'll match everything you have in your wardrobe!
Its so cheap that i have two boxes full of them! The quality is pretty good, not rusty stuff.
The guy who sells it is nice, once I took home a pair that was broken and he replaced it.
My take: BUY BUY BUY!



Shop no 3 : Woodlands,Kamla Nagar.
Location: Mc Donalds lane and also at the main Kamla Nagar lane.
Pricing: 600 to 7000/-
Stuff found:
It is a high end store, and I always invest in awesome footwear, cuz shoddy footwear can really mess our health up. Be prepared to shell out 1 to 2 k if you want something nice.
If you want something party-ish then go upwards of 2000.
Stuff has a lasting quality, great materials and cuts. They're super comfy and stylish.
This is one store I like hitting when the sale's on.
The 60 % off section is pretty okay.
The good stuff is to be found at the 30, 40 and 20 % off section.
Suppose I invest in a pair of Woodland heels costing me 1500.
Woodlands heels.
I will obviously keep them till they wear out. :P
So even if I wear it 12 times(i do it more than that !)
Its 1500/12 = 125 !!!!!!!
So I guess we can fit footwear into our budget :)